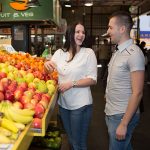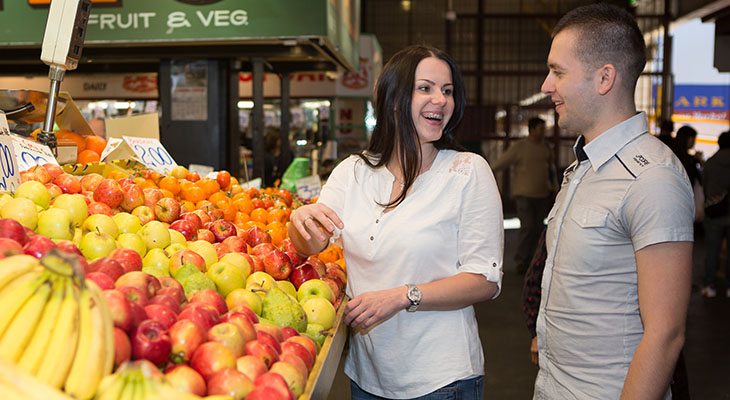 Over the last three decades, Australia has become internationally renowned as one of the world's leading producer of fresh food. Meat, vegetables, fruit, cheese and dairy, wine; you name it, we're making it in bulk and of the finest quality. More recently, there's been a trend in Australia towards sustainable and organic growth that's further bolstering our global reputation. Food exports have surged by a massive 60% in the last five years. International food tourism is at an all time high, 'Daigou' shoppers are sending high-demand products back to China, and there's increasing speculation that Australia will soon be the regional centre of a gourmet Asian 'Dining Boom'.
In the middle of this crazy storm of food, economics sits Adelaide. What was once a sleepy town surrounded by sheep and cattle stations, is now Australia's now fourth largest city and has become the farmers' market hub of arguably the best fresh produce nation in the world. Adelaide's many markets are famous within and outside of Australia. The Adelaide Showgrounds Farmer's Market recently won the 'Best Farmers Market in Australia' award, and the Central Market has long had a reputation for being the top central market in the country. If Adelaide's farmers' markets are the 'best of the best' on a global scale, what is it that makes them so good? Plus, (most importantly) where are they and how do I get to them in time for lunch?
Why Adelaide's Farmers Markets are So Fabulous
There are a couple of reasons why Australian food is in such demand. Because of the enormous range of climates across Australia, we're able to grow a variety of produce all year round. The different soils and environments provide perfect conditions for many strains of fruit and veg. Unlike our American counterparts, much of our meat is grazed rather than industrially produced. Plus our soil, air and water are considered by international buyers to be clean and free from pollution, which has led to trust that our food is safe.
Food grown in South Australia reflects all of these broader Australian trends. But, there are a few key points that make Adelaide's markets stand out. Firstly, South Australia's climate and soils are particularly good and diverse enough for a range of foods, but the state is not so large that growers can't get to market. Stall holders can come from all over South Australia, so the variety of produce is exceptional.
Secondly, South Australian market food producers have gotten incredibly creative. You can find everything from smoked wursts to blended olive oils or wattle seed flavoured ice cream. There are so many smaller markets focusing on unique specialities you could go to one every weekend and find something different each time. Thirdly, the markets themselves have begun to introduce a broad range of food related events and workshops based around food as a passion and a lifestyle. And, finally, the growers and stallholders themselves are institutions because they've been at their particular markets for so long. A buyer can have a lasting relationship with their food producer (and even go to their farms to visit) and who doesn't want that!
Adelaide's Top 5 Markets and Where to Find Them
Adelaide Showground Farmers Market is the award winning diamond in the crown of Adelaide markets. Featuring over 90 producers from all around the State, the market draws a whopping crowd of more than 6000 visitors every Sunday. The variety of foods means you can buy everything you need for a weekly shop, and it's some of the tastiest food you'll ever eat. You can even visit the stall of former Masterchef runner-up and SBS TV chef Poh Ling Yeow. The market runs from 9 am to 1 pm every Sunday, at the southern end of the Adelaide Showground on Leader Street, Wayville. A smaller version of the market is held at Prospect (adjacent to the Town Hall) every Thursday from 3 pm to 6.30pm.
Adelaide Central Market is a must do for anyone visiting Adelaide. The market features more than 80 stalls of local produce, with a mix of cooked and fresh food. You can go for your weekly shopping or just show up and sample everything from sushi to Latvian Merguez sausages for a diverse dinner. Popular stalls include the Smelly Cheese Shop and the Mushroom Man's Mushroom Stall. They also host events such as late night cheese and wine tasting. It's open between 7 am and 5 pm, Tuesday to Saturday, located in Adelaide's CBD.
Barossa Farmers Market also came in the top ten of the 'best markets in Australia competition,' and it's no surprise. The market showcases only the food and beverage coming from the renowned Barossa region, home to wine and beautiful produce with a mainly French and Italian flavour. This market is an essential stop for many Adelaide fine dining chefs. You can find it in the Vintners Sheds in leafy Angaston on Saturdays from 7.30am-11.30am.
The Willunga Farmers Market is a long standing institution and the oldest market in the state. Like the Barossa market, the Willunga market specialises in showcasing produce grown in the local district of Fleurieu. Sample some unusual seasonal specialities such as native saltbush and Tobalong tomatoes, or get your orange zest lamingtons at the Unique Tree bakery. The local cheeses from Alexandrina and Paris Creek are divine. Head over to the Town Square on St Peters Tce, Willunga, on Saturdays from 8am-12.30pm.
Adelaide Hills Farmers Market offers a little day trip up into the hills area to sample some of the unique local tidbits on offer. Regional specialities included blended olive oils, raw honey and a delicious range of baked treats such as Lilit Petrosyan's delicious Armenian cakes. It's also known for it's excellent organic and seasonal produce, including a variety of fruits and berries. You can find it at 23 Mann St, Mount Barker every Saturday from 9am-1pm.