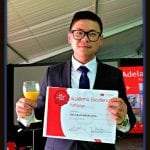 We are proud to announce that one of our students – Oscar Ong Zi Shao, who is currently completing Foundation Studies at the College, has recently won the inaugural pathways 'Academic Excellence' award at the Study Adelaide Governor's International Student Awards.
Oscar was acknowledged for his academic results, having finished the first semester at the College with an average of 95%. Further, Study Adelaide commended him for his extra-curricular activities that contribute significantly to the college and the outside community. He is president of the the College Social Club and has been integral in raising money for the RSPCA, The Cancer Council and YGAP, as well as hosting events that encourage student participation and engagement. Oscar has also been involved in voluntary work with the Cancer Council, Study Adelaide, The Colour Run and the Adelaide University Malaysian Students Association. Oscar is a popular and gregarious student – his teacher's comment on his maturity and discipline as well as his wit and sense of humour in class. His academic achievements and community contributions make him a worthy recipient of this award and we congratulate him on his achievement. Oscar won a trip for two to Kangaroo Island from StudyAdelaide for his efforts.
We believe that Oscar's testimony will truly inspire future students who are deciding to pursue their studies at the College.
Oscar comes from a humble city, Ipoh in Malaysia and has truly proven himself to be a remarkable student.
To see the full list of award winners from the Study Adelaide International Students Awards, follow this link.