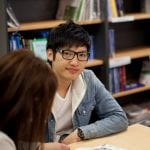 If you head to the Student Resource Centre at the University of Adelaide College, you'll meet Phillipa Goode. As a Tutor Assistance Program Teacher and Resource Coordinator, she's there most of the time; ordering course books, teaching English or helping students with assignments. If you get chatting to Phillipa, you'll discover she's had quite an international life. Originally from Kingston in regional SA, she came to Adelaide University in 2001 to study a BA in International Studies and a Diploma in Languages. She's since gone on to teach English in China, Vietnam, Turkey and the UAE as well as gaining her CELTA Qualification and a Master's in Teaching. We've asked Phillipa to talk to us about what the Resource Centre offers and how her experiences overseas have shaped her approach to teaching.
What's your role at the Student Resource Centre?
As Resource Coordinator I take care of the college's books, this involves organising the course books for students and teachers as well as ordering and supplying extra resources for teachers. In the Resource Centre there are open times for students to come and work independently, which I supervise. There are also times when students can make an appointment to see me for one-on-one learning support.
Can you tell me a little about your experience leaving Australia and going overseas to teach English for the first time?
Living overseas is a challenge wherever you go and it's that challenge that I enjoy, it has kept me moving about. When I first went to Jinzhou, China in 2005 I found it incredibly difficult as I was only 21 and I had no knowledge of Chinese language or culture. For the first couple of days I was overwhelmed, but I then met a few friends and got some support from other ESL teachers and stayed for a year and loved it. This was when I decided that I would like to make teaching ESL my career. I really enjoyed learning Mandarin as it gave me greater access to the local people and a better understanding of the culture. After having such a positive experience in China I decided I wanted to live in other countries so I lived and worked in Istanbul, Turkey for two years, Do Son, Vietnam for 9 months and Al Ain, UAE for three years.
Do you draw from these experiences in your role at the SRC?
I definitely find that my experiences abroad help me in my role. I understand what it's like for students struggling with language in a foreign country. When they come to me to ask how to improve I can actually give them advice that I have used myself. It also helps that the majority of our students come from cultures that I have had close access to.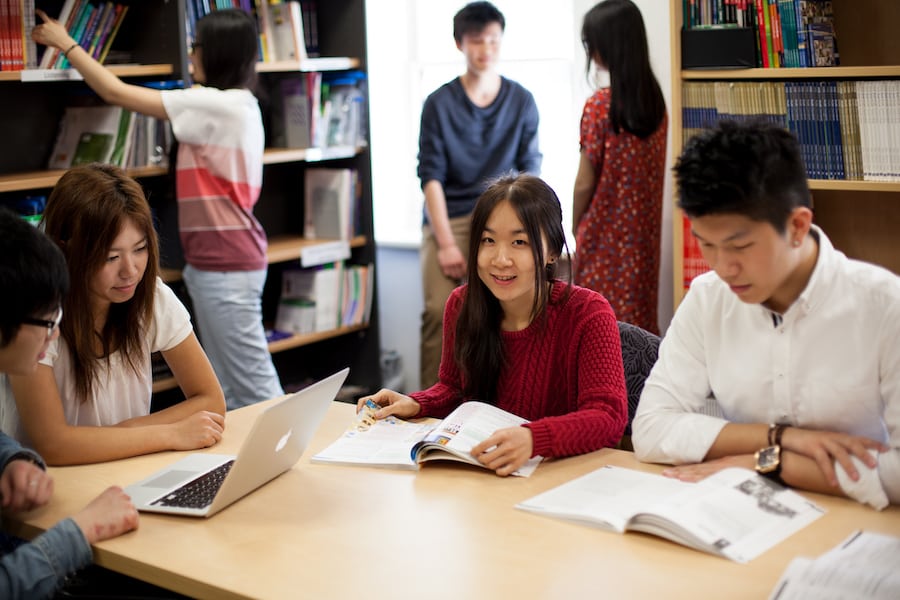 Students studying in the Student Resource Centre
"The most important thing is to ask for help. I know that a lot of students feel like they should just slog through, but it makes a huge difference if a struggling student approaches the teacher about their difficulties early."
What's your favourite thing about your job?
I have so many different bits and pieces in my job and generally I like them all, but my favourite is probably when I have a few students in the Resource Centre working independently and asking me questions. It makes it feel like a supportive environment that students can really benefit from. I also love buying books even if they're not for me!
What services does the Resource Centre offer to students?
The Resource Centre has a range of books on the school subjects and also resources on skills that students can borrow or use in the Centre. There's also graded readers and novels for them to borrow so they can get used to reading in their free time.
The students can also buy their textbooks for their courses if they missed the initial book purchase or if they changed courses. There are two student computers that they can use for work and there are also some software programs for skills practice.
The room itself can be used by students as quiet place to study or they can book a time to see me one-to-one for tutor assistance. The schedule of appointments for learning support means that most students will be able to find a time to see me between classes. Teachers come in and out very often and if there are students in there chatting with me or with each other we often end up having conversations about some interesting topics.
You must have a lot of students with very different levels of English. How do you try and cater the services to these different levels?
That's part of being an ESL teacher, grading our language becomes second nature and through years of teaching you can easily gauge what a student needs at any level. Students at a lower level often need more help with grammar, vocabulary and sentence structure, students at a high level might need help with structuring an essay or refining their skills. The Resource Centre is well set up with resources for everyone.
What do your students find most difficult about studying in a new place?
That really depends on the student. Some students are not used to the expectations of study in Australia or they have a hard time getting used to different teaching methods. Learning how life works in Australia is hard too.
Are there any SRC regular students in particular who you have seen develop and grow during their time at the College?
Yes, one student in particular! He restarted his course as he wasn't doing as well as he could and he made a concerted effort to come and see me regularly. He also pops in probably twice a week for a chat or a quick question. He has worked harder with his class teacher as well and I often talk to her about his progress and what he needs to work on. His teacher and I have both seen huge improvements in his class work, but most importantly in his confidence. It's really nice to see and I hope he's proud of his achievements.
What advice do you have for new students starting out?
The most important thing is to ask for help. I know that a lot of students feel like they should just slog through, but it makes a huge difference if a struggling student approaches the teacher about their difficulties early. The academic staff and student services are here to be a benefit to students and it's really important that students understand we all want them to succeed. The University of Adelaide College teachers provide hours and hours of tutor assistance to students each week (not just in the Resource Centre) and student services are always ready to listen and help.
See here for more information about the Student Resource Centre or to get in contact with Phillipa for some study help.