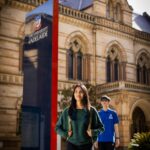 A lot of anxiety and pressure surrounds high school students in Year 12, but it's important to remember that if university is your goal, there are other ways to get into uni without an ATAR.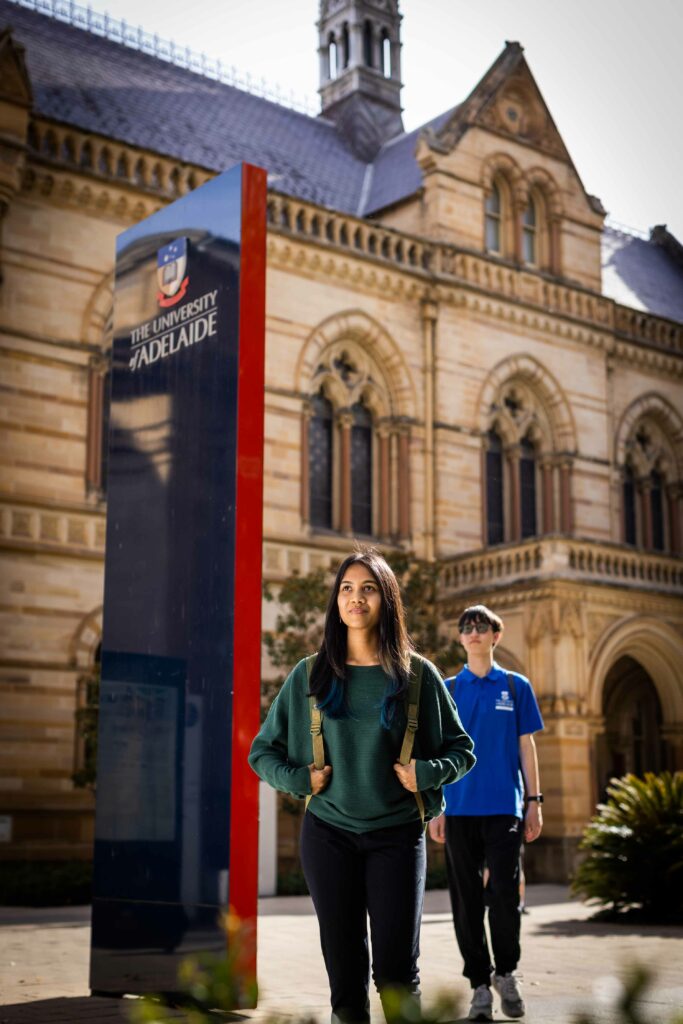 The Australian Tertiary Admission Rank (ATAR) is a rank (not a mark) that indicates a student's position relative to all the other students in their age group. What it's not is a test of your intelligence or a sign of how likely you are to succeed in your future career.
If you've experienced a setback with your ATAR but are dreaming of studying for a degree at a world-class university, a pathway program is a great alternative option to direct entry.
So, how do you get into uni without an ATAR? Or without the Year 12 equivalent if you're an international student?
At the University of Adelaide College, our  Foundation Studies Program is the answer!
Successfully completing this program guarantees you a place at the University of Adelaide, where you will transition into the first year of your chosen bachelor's degree.
Your study pathway will look like this: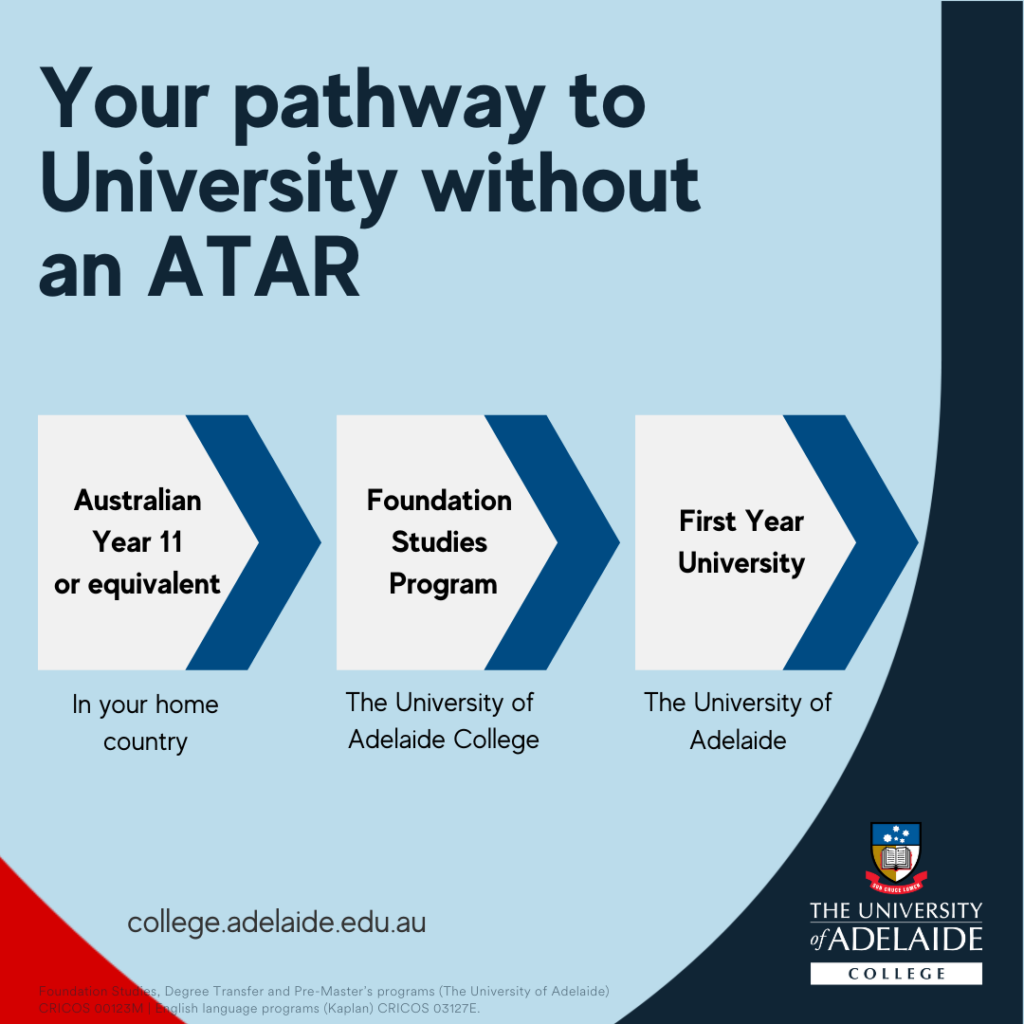 In terms of academic entry requirements, you need to have completed Australian Year 11 (or equivalent) and this may vary depending on what country you come from (please see table below).
Our experienced teachers will ensure you're studying the prerequisite subjects to prepare you for your degree. Once you achieve the required progression score and any program specific entry requirements, you will be guaranteed entry* into the first year of your packaged degree at the University.
Here's some key information about the Program:
**Foundation Studies Program Snapshot**
Duration
Standard: 40 study weeks (one year)

Accelerated: 37 study weeks (nine months)
Intakes
Standard: March, August

Accelerated: October
Campus
Adelaide or Melbourne
English entry requirements
IELTS 5.5 (all bands 5.0 or above) or equivalent, or completion of the College's English Language Programs
Academic entry requirements
Australian Year 11 or equivalent (see here for academic entry requirements)
Compulsory subjects
Critical Thinking

English for Academic Purposes
Subjects
Our College staff will assist you to select the subjects that will meet your packaged degree requirements:

Accounting

Biology

Chemistry

Computing and Information Systems

Design Studies

Economics

General Mathematics

Mathematical Methods

Nutrition

Physics

Specialist Mathematics
Aside from allowing you to meet the entry requirements to start your degree at university, there are lots of other benefits of studying a pathway program that you may not be aware of. This includes:
You'll study a mix of subject-specific knowledge and soft skills
Our academic curriculum is developed in partnership with the University of Adelaide in order to best prepare you to transition to the academic learning environment at the university.
Depending on your bachelor's degree destination you'll study subjects to gain the technical knowledge necessary to begin university-level study in your field of interest. However, you'll also study subjects that will focus on soft skills – such as communication, critical thinking, and academic writing – that will help you excel in your studies, as well as in your future career.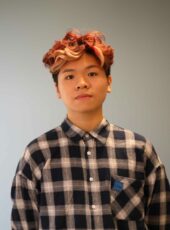 Nghia
Le
Xuan
Foundation Studies Program
Vietnamese
"Pathway programs are structured similarly to university, and you learn related subjects that will be beneficial to your degree. Finishing the Foundation Studies Program at the College gave me the confidence to enter university."
It's a great opportunity to practise your academic English skills
English for Academic Purposes or Academic English is a compulsory subject you'll take in any pathway program. This will help you to understand and produce different text types, participate in academic arguments, and express yourself clearly and accurately. As part of the Program, you'll study academic subjects which involve written assessments and taking part in class discussions – this will naturally see your English skills improve in leaps and bounds before you progress to university.
You'll receive the highest quality of learning, with lots of one-on-one support
Throughout your time at the College, we offer one-on-one assistance in academic areas such as referencing, essay and report writing, presentation and academic language skills. You'll also have access to writing support services at the university such as the Writing Centre, where you can further develop your skills with help from an experienced team of Learning Advisors.
Don't let your ATAR hold you back from university! Find out more about the Foundation Studies Program at the College – the preferred pathway provider to the University of Adelaide, a prestigious Group of Eight university and in the top 1% of universities worldwide.
* Guaranteed entry is dependent on successful completion of the Foundation Studies Program, and students must achieve a minimum progression score as outlined on our website. Some degrees have additional entry requirements which we can advise you about. Please ask us for details