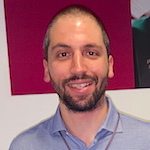 Ken Falzon, Academic Manager (Degree Transfer Program) at the University of Adelaide College, Adelaide, recently completed his MBA online.  He has done this while working full time at the College, and was recently promoted to manage the Degree Transfer Program at the College. The College provides a pathway for international students to enter the University of Adelaide.
You have recently completed your MBA online. Congratulations!
Yes, this degree was initially offered by Kaplan Online Higher Education (under the umbrella of Kaplan Professions) and recently transferred to KBS. There was six College staff that commenced in this new course promoted by Kaplan at the time.
I believe you are one of the first to complete this course. How long did it take you?
I studied the MBA from June to February–it took me approximately 18 months.
What aspects of the course did you particularly believe were worthwhile?
An MBA covers a lot of different areas of management but mostly deals with broad subjects. I already had a business background, so many areas were quite familiar to me, e.g. economics, accounting, statistics and finance, while other units were new territory, e.g. strategic management and human resources. I particularly enjoyed the business process management unit, while some units I found really applicable. I also found collaboration with the other staff on certain projects, a satisfying experience.
Further news about you is that you have recently been promoted to the position of Academic Manager Degree Transfer at the College. Concurrently, you continue to practise both as the Subject Coordinator for Accountancy at the College and as an Accountancy teacher in the Degree Transfer program. Do you enjoy the aspect of the split role and in what way?
There's a lot of diversity in this role. Importantly the teaching aspect gives me a chance to keep in touch with the academic programs–with both the students and the teachers. However as a result of increased administration, teaching is reduced and I am now more involved with management and have more opportunities to engage with the University of Adelaide, which I enjoy.
What year did you begin teaching at the College?
I began teaching in 2010–the first semester to deliver ADM (Accounting for Decision Makers). This was during the previous growth phase. I then taught a semester or two of English in the Degree Transfer program. Following that, I moved into the position of Subject Coordinator for Accounting.
Maybe you could tell us a little about what work you were engaged in prior to that?
Prior to working at the College, I spent 5 years (2002-2006) in Japan teaching ESL at Waseda University in Tokyo. On returning to Adelaide I undertook a Grad.Dip.Ed. at the University of Adelaide.
And you learnt to speak Japanese when living in Japan?
Yes, I studied the language formally for 2 years, then informally for the rest of the time. In addition to teaching English, I taught yoga classes in private studios in Japanese which greatly improved my knowledge of the language.
I believe you have recently travelled to Sri Lanka on holiday. Can you tell us about a couple of things you experienced there that really left an impression?
Sri Lanka is so many things packed into a small country–e.g. its history, religion, and food that all reflect the very many different influences from other cultures. I found it surprisingly different from India (where I've also travelled), for example, the roti comes in quite different versions and the people's look and dress sense is unique. I was also surprised to discover its wonderful national parks.
Would you mind sharing with us what some other of your personal interests are?
I'm married with 2 children. I'm very much involved with my kids' interests and enjoy revisiting video games with my son and taking my daughter to the zoo. I also go camping with my family and participate in both a meditation group and a men's group.
To finish: what aspects of working at the College do you enjoy the most?
I still love teaching, as it gives me the opportunity to be creative. I also like presenting e.g. at the recent seminar I attended at Kaplan in Sydney. In my role as Academic Manager (DT) especially, I enjoy the aspect of managing staff.
Interview by Bonnie Claassen, Student Engagement Coordinator, University of Adelaide College
June 2015