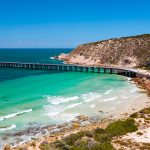 The University of Adelaide College has had a close relationship with StudyAdelaide for a long time. Started in 1998, this wonderful institution organises all sorts of tours and fun events to help international students get to know their newfound city. Most of the staff there are locals who bring their love and knowledge of their hometown into their job. We caught up with StudyAdelaide's Student Engagement Officer, Sarah Parrington, and asked her to tell us a bit about her history and favourite spots in Adelaide.
Hi Sarah, can you tell us a little about your role?
I've worked in the Student Engagement role for nearly 2 ½ years and thoroughly enjoy it. Before joining StudyAdelaide, I was an international student twice in the USA. These experiences indeedy highlighted to me the adjustments that an international student go through when studying in another country.
Tell us about where you grew up and what made it unique?
I was born and raised in Adelaide. Initially, my family lived in the Adelaide Hills, but as my brother and I got older, we moved to the Eastern suburbs where I could walk to school. As we got older, my brother and I enjoyed throwing joint parties to celebrate with our friends. This always included a barbeque and no matter what the weather, we would always swim in our pool. One of my favourite places to holiday was Black Point, which is two hours from Adelaide on the Yorke Peninsula. This is where I learnt to drive a boat, do water sports and fish. We would ask our father to fill the boat up with fuel each day, and we'd take it out. All the teenagers would take their boats out all day doing these activities. It was fantastic! 
You can't talk about your childhood in Adelaide without talking about the Credit Union Christmas Pageant. This event was a highlight of my childhood. My mum and grandma would wake us up before dawn and drive my brother and me into the city to sit on the "Blue Honour Line" and have a front row seat to the floats, performers and musicians. Last year I got to fulfil my childhood dream of being in the pageant, as I was selected to be a clown. It was a magical moment for me. 
What are some of your favourite areas to spend time in Adelaide?
I spend most of my time in the city, Eastern suburbs, Adelaide Hills and North Eastern suburbs. I enjoy the leafy, relaxed environment that these areas provide. Plus, it's close to fantastic nature, wildlife and wineries. I lived the first seven years of my life in the Adelaide Hills, and I thoroughly enjoyed having a childhood where it felt like I was in the countryside, but still so close to the city.
Where do you live now?
I've recently bought a house in the North Eastern suburbs and enjoy this area very much. I'm close to the O-Bahn so travelling from home to the office takes just 20 minutes. I'm a huge dog lover and have a dog of my own, Django. The quiet streets and beautiful parks allow me to exercise with him regularly.
What are the best things about Adelaide?
What's not to love about Adelaide! Adelaide has the Hills to the East, the beaches to the West, McLaren Vale to the South and the Barossa Valley to the North. We are so fortunate to live within easy driving distance of some of the most highly recognised wine regions in the world. Plus, who can mention Adelaide without mentioning the festivals? I thoroughly enjoy the diverse range of events that come to Adelaide each year. I'm an events person, so this just makes me happy!     
One of the other best things is that I can get across Adelaide or wherever I need to go reasonably quickly. A friend of mine has a holiday house at Port Noarlunga. It took me an hour from my home to go there for a weekend getaway! That was hardly taxing, and from her balcony, I get to see some of the most breathtaking sunsets. While talking about sunsets, who doesn't love a walk along the beach (with Django) as the sun sets over the water; absolutely breathtaking. Oh, I have to mention the Adelaide Crows.  I am a huge fan and love going to their games at Adelaide Oval.
What are some of the most popular things for students to do in Adelaide?
Oh gosh, the list is endless. I would recommend you visit our blog for the latest on things to do in Adelaide from the perspective of students. 
https://blog.studyadelaide.com/
Where do you go to find out what's on?
There is an abundance of websites out there with information on what's on.  Of course, visit our StudyAdelaide webpage www.studyadelaide.com and our student app which is accessible in the app store and Google Play. In addition to this, check out the following websites. All these sites including StudyAdelaide have active social media pages too:
http://southaustralia.com/things-to-do/whats-on
http://www.cityofadelaide.com.au/whats-on
http://www.cityofadelaide.com.au/your-community/programs-projects/community-events-and-activities/