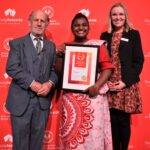 Winner of the Academic Excellence Award (Pathways) at the Study Adelaide 2022 International Student Awards.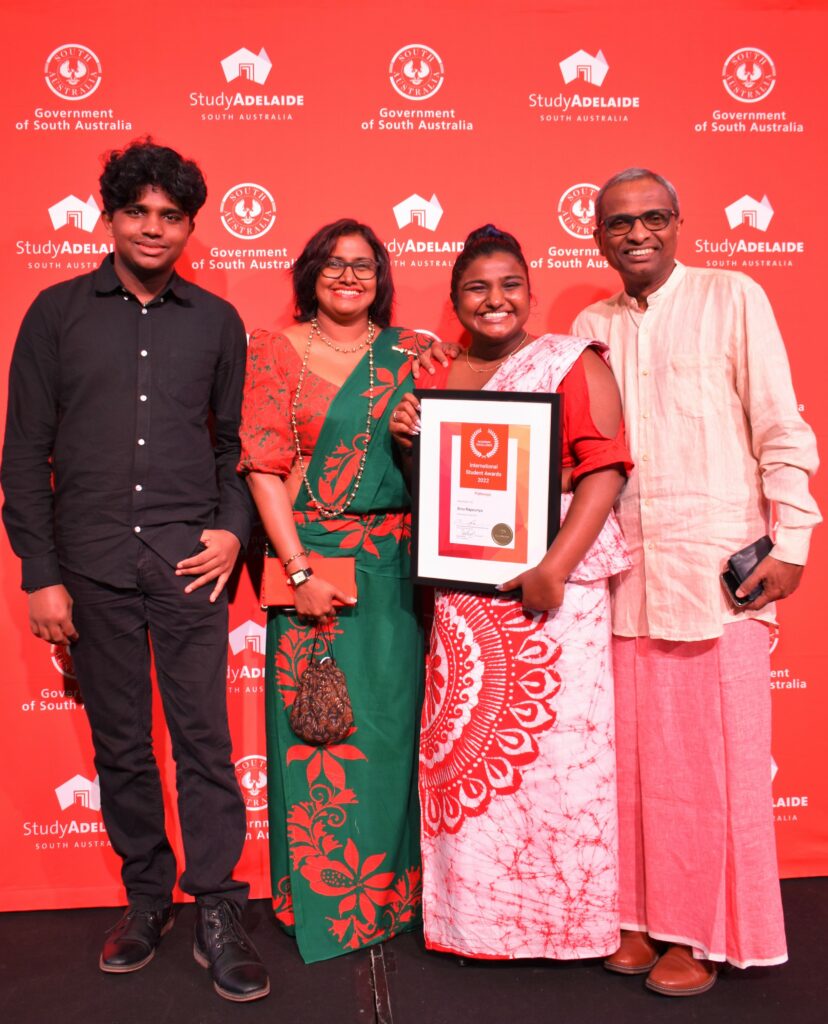 It all began in Sri Lanka.
Sri Lanka is a beautiful and vibrant country with friendly people, but it holds onto traditional beliefs, customs and practices that were different to my family's way of life. My high school lessons were prescriptive whereby teachers provided us the answers to memorise and expected us to agree with their opinions. There were few opportunities to express my thoughts and my individuality.
In January 2022, I was meant to sit for my Cambridge A levels and enter university. However, the number of COVID-19 cases in Sri Lanka was high, so the A levels were cancelled.
This situation motivated me to research pathway programs abroad. My parents are liberal and supported my decision, so we started researching Australia, where the number of COVID-19 cases decreased, and students returned to campus to study.
As Melbourne & Sydney already had a very big Sri Lankan population, we decided to come to Adelaide to meet people from different cultures. The University of Adelaide was part of the prestigious Group of Eight, so I decided to enrol in Foundation Studies at the University of Adelaide College.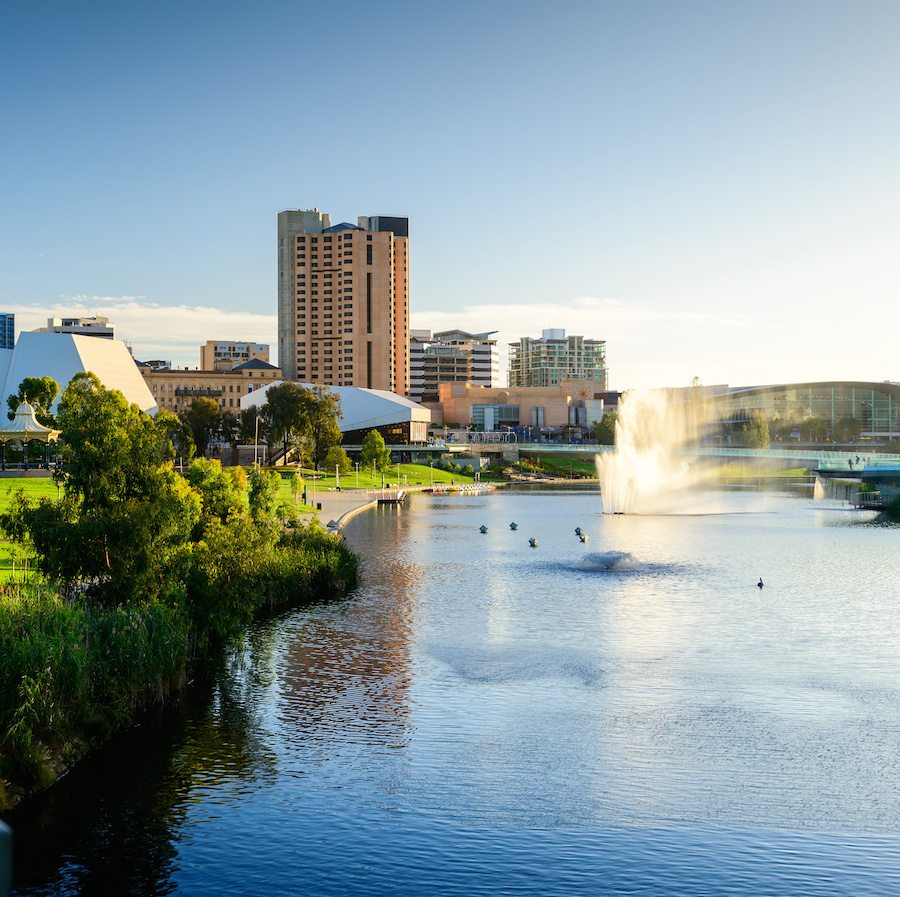 Culture shock
I come from an educational background where teachers required us to memorise prescribed answers. I received high marks in my high school certificate by memorising the exam answers the teachers wanted instead of writing down my thoughts and opinions.
Then I came to Australia, and it was the opposite.
Here, the teachers encourage you to be creative, to give an honest answer and stand out from the crowd. They inspire us to think independently, to be self-disciplined and set our study schedules. They are approachable and happy to advise and discuss any concerns.
I am grateful that the teaching and study environment at the College has helped me adjust to the Australian way of education and prepared me for university next year.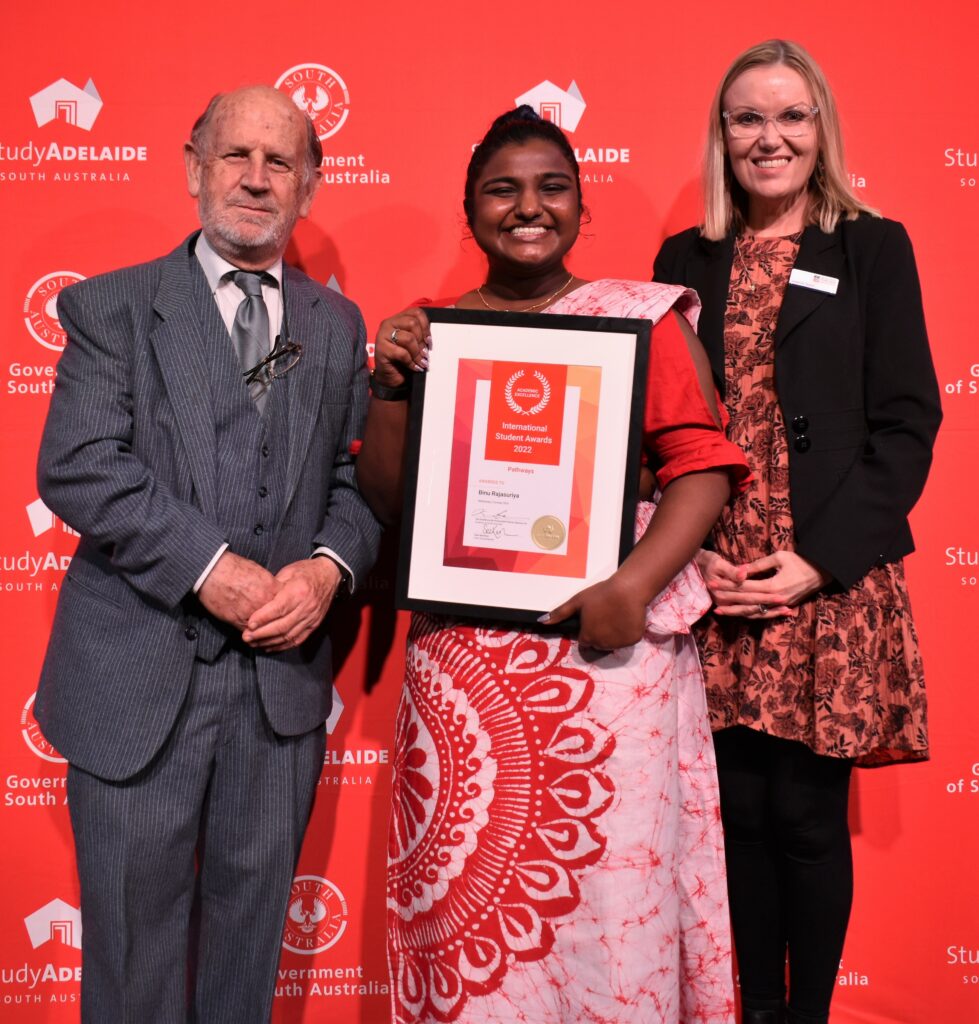 People are interesting
I am fascinated by people. I love working with people. I love studying them and their history.
The Australian Studies unit in my Foundation Studies program has piqued my interest in studying people in history. I want to research why some ancient civilisations who live far from each other have similarities and how different languages around the world share similar expressions. I may become an anthropologist.
My teachers
All five of my Foundation Studies teachers are knowledgeable and understanding. I am especially grateful to Leanne Taylor, who encouraged me to join the Social Club and apply for the Study Adelaide International Student Awards. She connected me with the Scots Church and organised community events for which I volunteered. My English unit teacher, Liz, continuously pushes and challenges me further.
The Social Club
During high school in Sri Lanka, I did not receive the chance to join the clubs and societies due to generational bias. So, when I arrived at the University of Adelaide, I was determined to join as many clubs as possible. One of these was the Social Club, of which I am now the President. Through this club, I started developing leadership and teamwork skills. I encourage everyone in the team to give their input, and all ideas are appreciated.
We organised activities for Harmony Day, RUOK? Day and Youth Week, where we raised money for cancer research. Mental health is a significant issue for students, so we organised Destress Days, where students can participate in pot painting, art, and dance therapy.
My advice to future students
Before you consider studying abroad, seek advice from your agents about living in Australia or connect with other international students via social media and community forums or read blogs.
Going to a new university in a new country is a new beginning. Do not worry about maintaining a certain image. Be yourself.
The teachers are friendly, attentive, and approachable. Ask them any questions. They will help you.
Learn in your style. Be creative and diligent – do not just follow sample answers.
Make friends with people who are not from your own country. You will learn so many new and different things from them.
If you want to start developing professional skills before you graduate, use the Careers Service in the University of Adelaide for job placements.
Most importantly, have fun!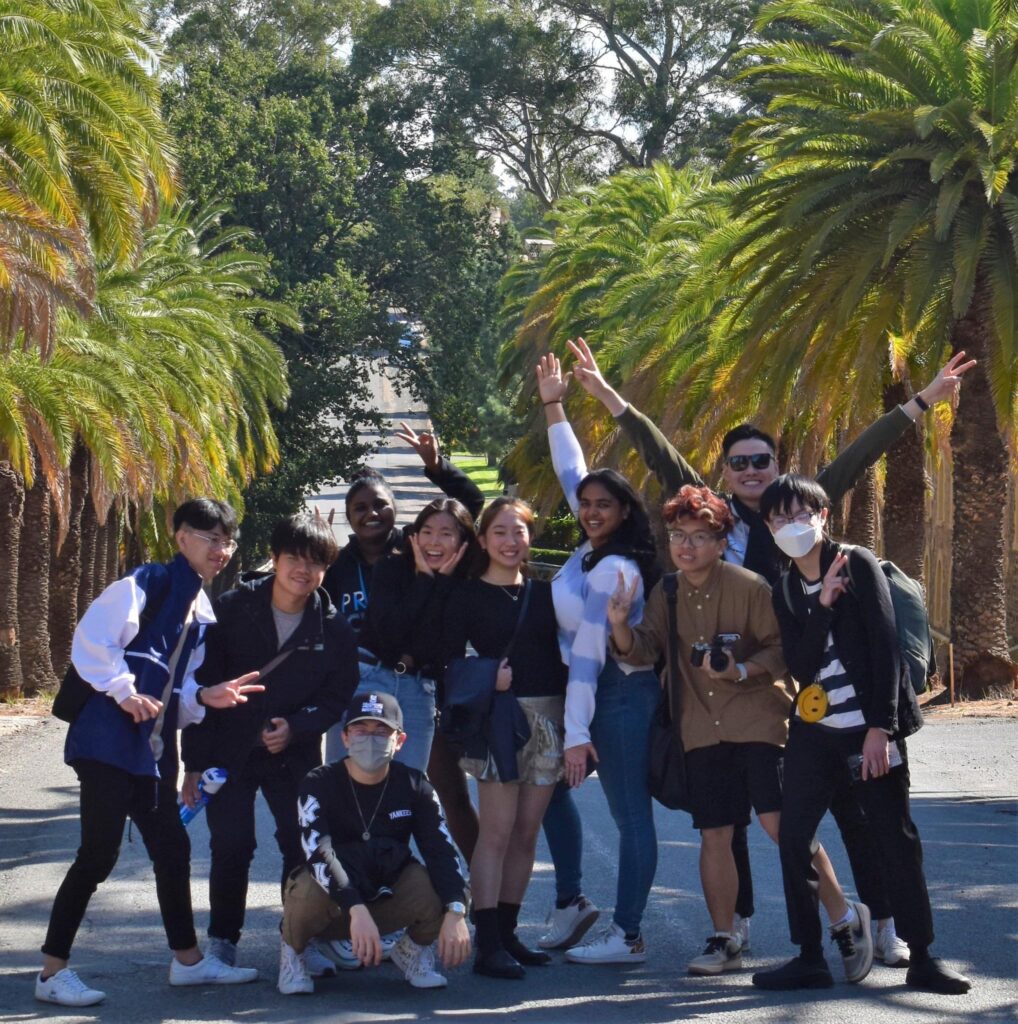 Binu will complete her Foundation Studies this year. She is deciding between studying Anthropology, English and Psychology with a career goal to be a university lecturer.
Her dream job is to work for the United Nations advocating for human rights.
Inspired by Binu's story? Find out more about how our Foundation Studies Program can help you get into your degree at the University of Adelaide – a member of the Group of Eight and consistently ranked in the top 1% of universities worldwide.