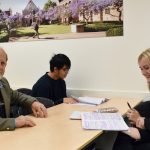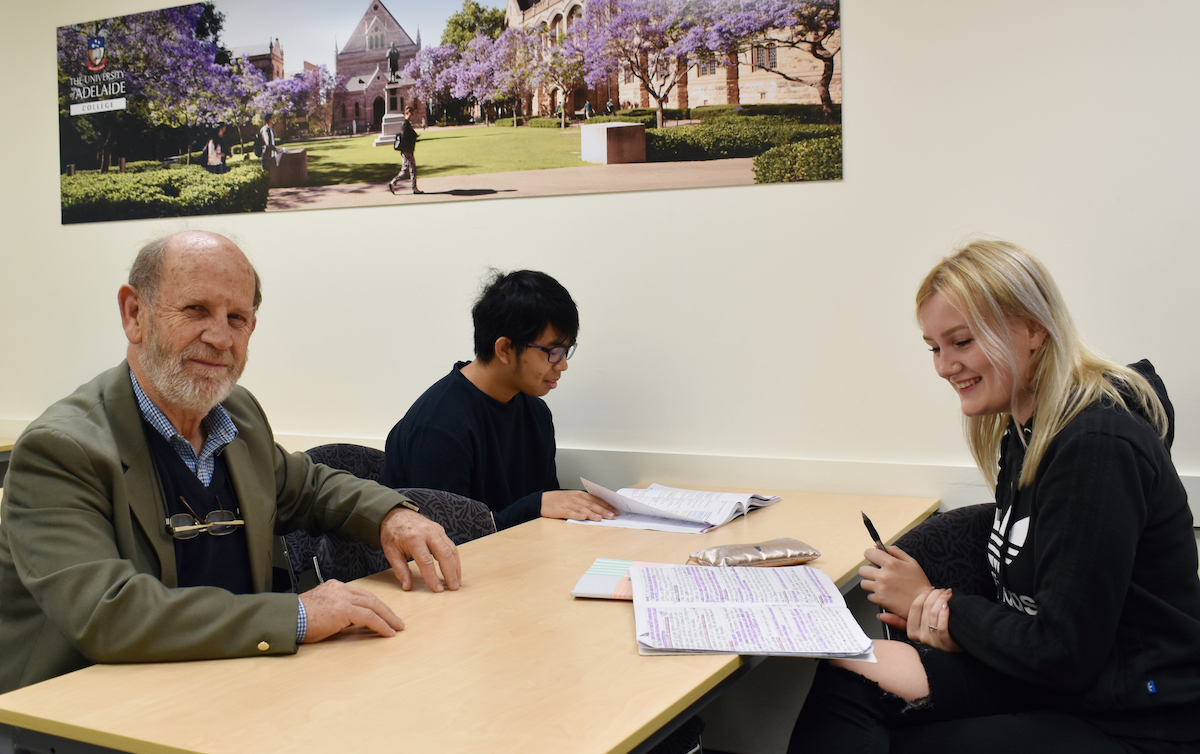 At the University of Adelaide College, we pride ourselves on our exceptional, hard-working teachers. Nigel Coombe is from Adelaide where his family has lived for several generations. He studied Economics at the University of Adelaide and started teaching Economics at the College in 2007. He's well known and loved around campus, so we thought we'd ask him a few questions so the world can get to know a little about who he is.
Tell us a little bit about being a teacher and what you love about it.
I started teaching because I was inspired by someone that I met on a bus. Very soon after that, I started at the Education Department of SA teaching Economics, Geography and Maths, and later completed a Post-graduate in Education (again at the University of Adelaide).
I love working at the College because of the staff and the students. A real team spirit makes it a great place to work, and it is fantastic to support students toward success – many have been very successful – both in careers in Australia and their home country. The people you have to work with are important – all students are pleasant and nice. There is always someone at the College to help me when I need it.   
I've learned a lot about other countries through my teaching. I'm smiling every day, and it's almost like not working at all!
If you could organise a festival, who would be the top 3 bands in the line-up?
Jimmy Barnes, AC DC and Men at Work. These three are Australian and tell stories that I can relate to in my life. I knew these bands when I was young; I first saw AC DC when I was 16 at the Largs Pier Hotel. The cover charge was $1!
Tell me one of the best and one of the hardest moments of your job that you remember.
Best – last year a student struggled all year but finally got into the University of Adelaide course of his choice, Finance. This is more of a mark of success than the success of the naturally talented students, as he did it through hard work and determination. I got an email from his parents thanking me for the support and guidance I gave the student.
Hardest moment – I was involved in small car traffic accident and was advised not to work for two months, so I had to stay home and couldn't go to work. I missed the company and the stimulation I get from coming to work.
Did you have any important childhood pets?
Yes, my Shetland pony Bub. My father brought him home, and he became part of the family. Sometimes I would even bring him inside and got in trouble for this as well as feeding him all of Mum's apples and carrots. I rode him more than I rode a bike.
You studied at the University of Adelaide. Can you tell more about that experience, and what you studied there?
My father wanted me to do Law, I wanted to do Economics, so I did both, graduating with Honours in Economics. However, I did the best in Economics because it was my true love. I always tell my students it is hard to do well in a subject you don't like.
My time at the University of Adelaide was one of the most fun times in my life. It stimulated my interest in Economics, particularly the stock market. It was an exciting place to learn, and I'll never forget my lecturers and my fellow students. University helped me grow up and mature significantly. The grounds were (and still are) so beautiful – though in those days we were not allowed to walk on the grass, let alone lay on it like students today!
I also ate rice for the first time at the University of Adelaide. The Malaysian students would put on a 20-cent lunch of special fried rice and Chinese tea.
What do you do in Adelaide in your downtime?
I love classic cars, and I'm involved in the Rolls Royce Owners Club. I also do a lot of bike riding, play tennis, and look after grandchildren, which is fun and keeps me young.
What's a place you've loved, and a place you'd love to go?
Loved: Imatra (Finland) – I lived there and taught at the University. It was the excitement of the snow, ice and lakes that were stunningly beautiful, which is a novelty after living in Adelaide. The Finnish all speak English and are very friendly people, so I was able to teach in English!
The place I'd like to go – Timbuktu – because I've read so much about it. When we were in Mali, it was considered too difficult and dangerous to go there. I always wanted to go there given its history and the culture.
What are you reading at the moment?
Seasons of Sand by Ernest Aebi. It's about a village in Araouane, in Northern Mali, near Timbuktu. It is a true story about a Swiss man who came upon the town on his travels and returned there to assist the locals – this reflects something I would have liked to have done.
What is your advice for new students starting at the college? 
My expert advice is: Always attend every lesson and undertake every task that is set for you. It costs money to come to every lesson. If you had a ticket to a concert, you wouldn't give up your ticket! As a student, you've paid your fees, and this gives you access to every lesson and every learning support. If you miss tasks or lessons, that makes it very hard to make up this loss. I can't think of any student who has done the above and not succeeded.
Also, always sit at the front of the class, don't try to hide up the back. Take every opportunity to practice your English and make friends with those that don't speak your native language.