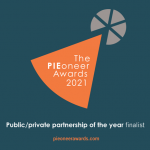 The University of Adelaide is a global finalist!
For the very first time, the University of Adelaide College has been recognised as a global finalist in The PIEoneer Awards 2021! We have been nominated in the category of 'public / private partnership of the year' for our partnership with the University of Adelaide and the delivery of the University of Adelaide Melbourne Campus.

Our partnership, with the University of Adelaide extends almost 20 years. To be recognised for our commitment to the partnership and dedication to launching the new Melbourne Campus for the 2021 academic year was incredibly rewarding and a testament to the strong working relationship between our two institutions.
At every step, Kaplan and the University of Adelaide have been focused on providing quality education and an immersive student experience, for our students in Melbourne. As the first interstate campus in the University's history, we have been focused on student success from day one.
The Melbourne campus offers the same academic excellence in learning and research for which the University of Adelaide is known. We offer a range of study options designed specifically as pathways for our students to enter undergraduate and postgraduate degrees at the University of Adelaide in Melbourne.
The Melbourne Campus showcased what an innovative pathway partnership can look like and sets a new best practice in achieving cohesion in areas such as:
Systems integration for timetabling and learning platforms
Shared policy creation
Shared recruitment and marketing
Shared student support functions
The University of Adelaide College was thrilled to be recognised amongst a strong global field for our innovative partnership.
The PIEoneer Awards are the only global awards platform that celebrates innovation and achievement across the whole of the international education industry. With a distinguished judging panel representing geographical and professional diversity, these awards recognise both individuals and organisations who are enhancing professional standards, evolving their engagement or redefining the international student experience.
Watch this space! The 2021 winners will be announced at the hybrid awards ceremony, taking place on Friday 3 September at London's Guildhall and online via the virtual awards platform.