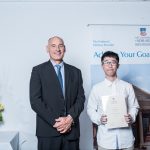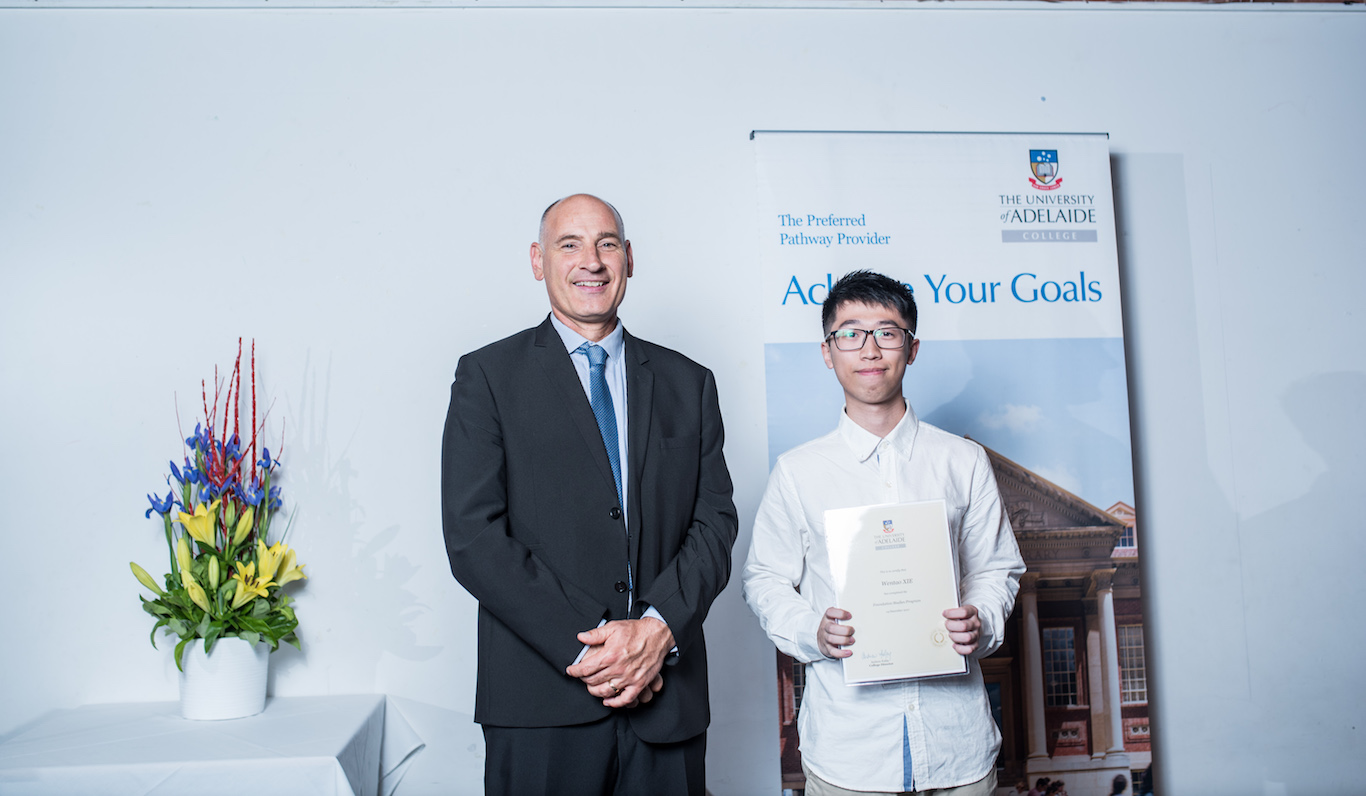 This week, we're proud to profile one of our hard-working, talented young graduates, Derek Xie (pictured with University of Adelaide College Director, Andrew Foley, accepting his Foundation Studies Program Award). Originally from Guangzhou, China, Derek came to the College several years ago to undertake our Foundation Studies Program. Derek's dream was to go on and study Civil and Structural Engineering at the University of Adelaide. His father is a civil engineer in China, and it was he who inspired Derek to choose this career path.
Derek finished his Foundation Studies Program with us last year and transitioned to the University of Adelaide for his Civil Engineering degree.
All of us at the College were thrilled to find out that Derek had won an Engineering Scholarship.
While a scholarship is a great financial help, it means more than that. It is recognition for all the hard work students do during their time at the College. Not only was Derek studying hard, he was an active member of our Student Social Club and volunteered as the College photographer.
This week, we caught up with Derek to ask him about the scholarship, and life since the College. 
"I got the scholarship on January 5 this year. The application process to apply for a University of Adelaide scholarship is simple and straightforward. There is a website where applicants fill in their personal details and submit their application for the scholarship after they accept their offer of admission from the University."
What are the selection criteria?
"While the scholarship selection criteria is based on academic merit, citizenship is often taken into consideration. In addition, the University has a record of your academic performance, meaning no more material is needed other than the offer and your excellent academic performance."
How did you find out about the scholarship?
"During my Foundation Studies Program at the College, I heard from my friends about the scholarship. I then went to ask the University of Adelaide College Student Social Club Coordinator, Leanne, for more information. She sent me to the scholarship website, where I learnt that only students who have a grade point average (GPA) of 6/7 (85%) are eligible to apply. My hard work paid off, as I had achieved 94%."
How has the scholarship benefitted your studies?
"The scholarship provides a reduction of 25% of the tuition fee, for the duration of my bachelor's degree. It helps me a lot financially. Furthermore, I have to keep satisfactory academic scores to maintain my scholarship during my undergraduate degree, which motivates me to not give up."
How is your Bachelor of Civil and Structural Engineering going at the University of Adelaide?
"I must say, it was a little difficult to adapt to university life at first, as everything is so different to the College. However, without the help of the College, I wouldn't have acquired the critical thinking, leadership and study skills that I now possess. I'm so grateful for all the support I received from both the classroom and co-curricular activities."
What do you miss the most about the College?
"I miss the small-class teaching a lot. Individual support was easily accessible, from teachers both in and out of class. In addition, I used to be the photographer of the College's Student Social Club and miss the parties that were held."
Congratulations, Derek! It's always sad to say goodbye to our students, but we're so happy that you're going on to follow your dreams. We're sure you have a fantastic engineering career ahead of you.