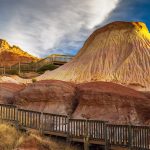 Everyone loves a long weekend and a mini holiday! Fortunately, Adelaide being cosmopolitan means there are a plenty of exciting (and affordable) things to do. If the weather is good, you could simply settle with a picnic, some towels and a train ticket to Glenelg for a heavenly day lounging at the beach.
See our top 5 list of things to see and do this Easter Long Weekend!
1. Whyalla uneARTh Festival
If you feel like spending a night or two away from Adelaide, then this is just for you. This 100% FREE festival features many of the acts that make an appearance at Adelaide Fringe. This two-day festival offers a huge range of fabulousness. Cabaret, music, comedy, circus – every form of spectacle under the South Australian sun will be there for you to enjoy.
For more info: visit the website
2. Hahndorf
Autumn is the best time to visit the Adelaide Hills with its crisp days and beautiful colours. You can go and visit a historic country property that belonged to two of Australia's most iconic painters, Hans and Nora Heysen. Catch a bus to Hahndorf and Google-Map your way out to The Cedars, a beautiful 60 Acre property open to the public. You can wander the gardens and house for free, or pay $10 to visit the artist studios. Hahndorf on Sunday will play host to the Easter Sunday Hahndorf POP Markets, full of stalls, bands and food.
3. Brick-a-Laide
For $11 pre-sale, you can get a ticket to Adelaide's only, once a year Lego event, Brick-A-Laide. Yes, you read correctly. It's a giant convention centre full of stuff made out of Lego. There's huge Star Wars installations, Classic 60's and 70's Space themed Lego, there's a 4m long World War Two Lego battle cruiser. It's massive amounts of Lego, plus more Lego. A whole day of Lego in fact, for $11.
For more info: visit the website
4. Hallet Cove Conservation Park
If you haven't been to this incredible coastal conservation park yet, then this is definitely a must-do. It's open on Good Friday, so that would be the perfect time to make it out there by bus. Choose one of the many beautiful walks that take you through stunning landscape and past Aboriginal sites have thousands of years' history.
5. Adelaide International Kite Festival
The annual Adelaide International Kite Festival will be running each day over the Easter Long Weekend at Semaphore, and it's also FREE! This bonanza of aerial colour features a huge variety of small and enormous kites from all over the world, both traditional and modern. Bring a picnic and watch the spectacle from a safe distance.
We hope everyone enjoys their Easter Long Weekend!