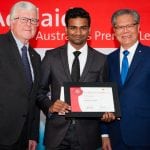 The University of Adelaide College would like to congratulate Rohit Kumar for winning the 'Academic Excellence for Pathways' Award at the 2016 International Student Awards in Adelaide.
The International Student Awards are an initiative of StudyAdelaide and are presented by His Excellency the Honourable Hieu Van Le AC, Governor of South Australia.
Since commencing study at the University of Adelaide College in October 2015, Rohit has been elected as president of the College social club and volunteered at the Phillip Kennedy Centre – an aged care home – in Largs Bay. He has also been invited to join the AIESEC as a global citizen volunteer.
A project Rohit produced was chosen by the University of Adelaide's School of Computer Science to be presented at Ingenuity 2016 –
the interactive exhibition of student achievement that explores the dynamic world of science, technology, engineering and mathematics.
In February 2016, Rohit transitioned from the Degree Transfer Bridging Program to Degree Transfer, studying Computer Science. He also received the University of Adelaide College Academic Excellence award for gaining the highest marks in Programming and Academic English.